I meant to take pictures earlier as I was making these, but I forgot to until they were mostly eaten! Oh well, they still look incredibly yummy.
Now, when it comes to pancakes, I'm a stickler for real maple syrup. I wouldn't be caught dead with Aunt Jemima in my house. However, I believe that using maple flavoring in baked goods is excusable, because you can't appreciate real syrup in baked goods, and maple extract is cheap in comparison.
This recipe was actually for pecan scones with molasses glaze. I changed the nut and the flavor, and I personally think they are wonderful.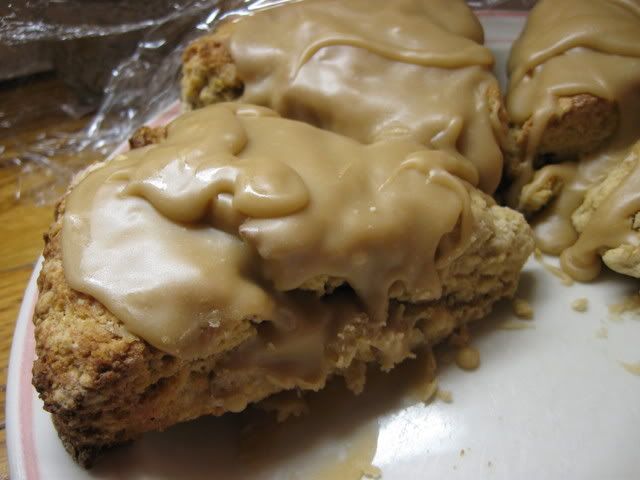 Maple Walnut Scones
2 C flour
1/4 C packed brown sugar
1 tsp baking powder
1/2 tsp baking soda
1/2 tsp salt
6 tbs chilled butter, cut into cubes
3/4 C chopped walnuts
2/3 C buttermilk
2 egg yolks
1 tsp maple extract
Glaze:
2 tbs cream
4 tbs butter
1/2 C brown sugar
2/3 C confectioner's sugar
1/8-1/4 tsp maple extract
Preheat oven to 400*
For scones, mix dry ingredients and cut in butter until pea-sized. In a separate bowl, whisk milk, yolks and maple together. Make a well in the dry ingredients, and pour milk into well. Toss with a fork until it comes together in moist clumps. Gather into a ball and press into an 8" round. Cut into 6 (for large) or 8 (normal sized) wedges and place 1/2" to 3/4" apart on an ungreased pan. Bake about 16 minutes. Place on a rack.
While scones are slightly cooling, heat and whisk butter, brown sugar and cream together in a heavy sauce pan until sugar is dissolved. Remove from heat and whisk in powdered sugar and maple. Spread over warm scones and let set 30 minutes, or until glaze is set to the touch.
Enjoy!