I had fun taking pictures of the bagel making process today. Waaaaay too many pictures. I went through and weeded out several (it made me think of the word-cutting process in short story writing. It hurt a little. :P ), getting the number of step-by-step photos down to a reasonable 9. My apologies to dial-up users.
To make bagels, first get out The Best Cook-Book In The World.
Oh, and a bowl, measuring cups, mixing spoon, etc.
Mix 1 1/2 C hot water, 1 Tbs brown sugar, 2 tsp salt and 4 C flour together to form a stiff dough. Knead vigorously by hand for 10-15 minutes. (Ha ha. Like anyone actually kneads it that long. Just knead it for what feels like forever.)
Be sure to use your best vintage mixing spoon, the one passed down from generation to generation.
Place the dough in a clean bowl and cover with a damp cloth. Let rise one hour or until double. Punch down (make sure you punch out any large air pockets. These are baaaad for bagels.) and cut into 8 even pieces.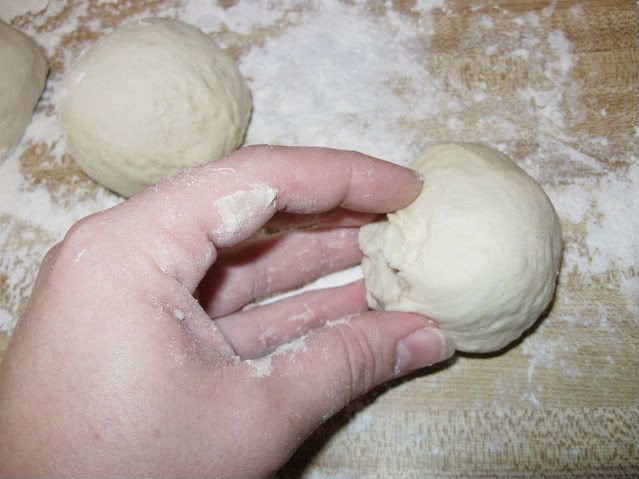 Form each piece into a ball. Don't roll it into a ball, pull the dough from top to bottom and pinch, forming a smooth top surface.
Place the balls on a well floured surface, cover and let rise another 30 minutes.
Only
30 minutes. Don't let them over-rise. The big air-bubble thing. They should be poofy, but not double.
While the dough is rising, prepare the water bath by heating 2 quarts water, 2 Tbs brown sugar and 1 Tbs white sugar to a boil. Hint: the wider the pan, the better.
At this point it's also a good idea to spray your baking pans, turn your oven on to 425* and get things for variations out of the cupboard. My family loves them sprinkled with garlic salt, various seeds, onion flakes, pretty much anything you can think of. (For cinnamon & raisin bagels, sprinkle cinnamon, sugar and raisins on your counter when almost finished kneading the first time, and barely work in.)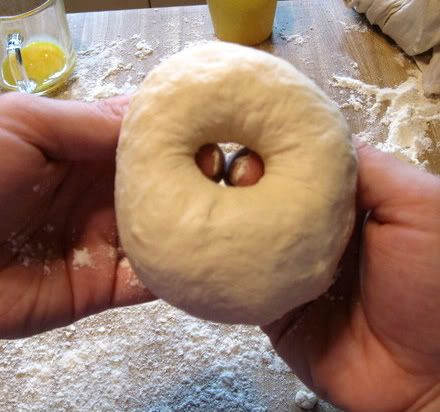 When the bagels have finished rising, it's time to poke holes. I find the easiest way to get a decent looking bagel is to poke a hole in the center with my thumb, then pull dough from the top of the hole down with my index and middle fingers. It's not really complicated, I just make it sound like it is.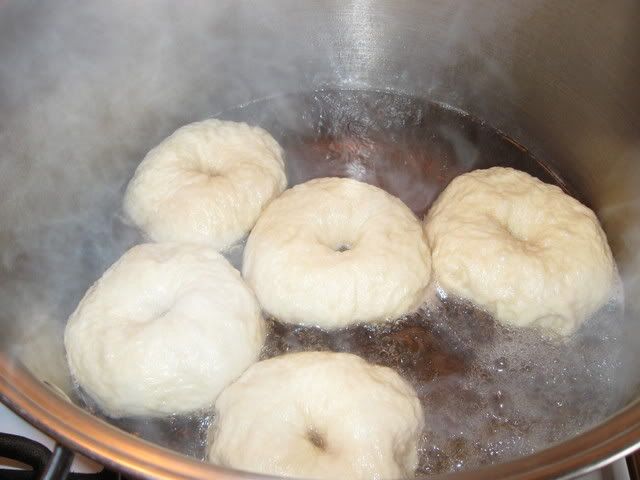 Your water should be boiling by the time you are done poking holes. Place as many as will fit in with room to enlarge in the water for two minutes on the first side, flip, and boil one minute on the other side.
Don't over boil them
. This creates soggy watery pockets that don't dry up no matter how long you bake them. Large air-holes from over-rising do the same thing.
Scoop them out, drain, and place on baking sheets. If you want different flavors, now is the time to do it. Sprinkling with powders or salts is easy enough, but if you want seeds and onion flakes, brush with egg white first.
Bake 20-25 minutes, until they are as brown as you like. Remove from pans and let cool on wire racks.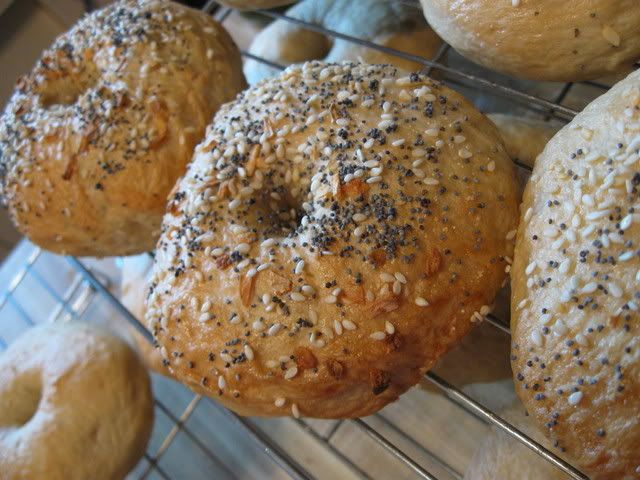 My personal favorite, the "Everything" bagel.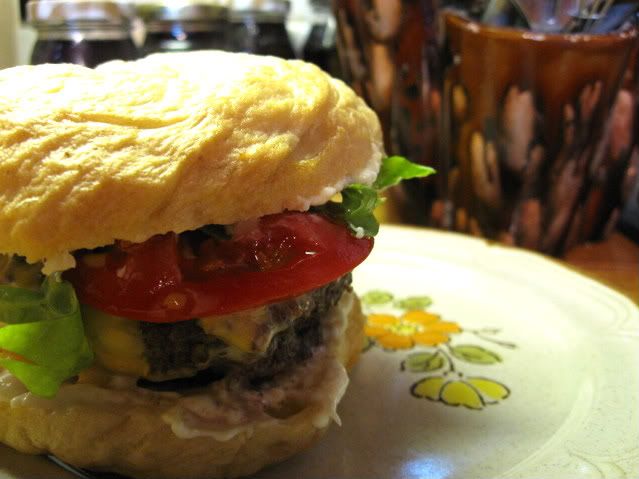 Bagels aren't just for breakfast, either. Lightly toasted, they are great for sandwiches and burgers. The best way to eat them, in my opinion, is hot from the oven with absolutely nothing added.